its time to say "THANK YOU"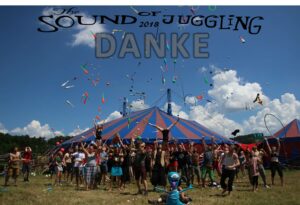 Photos from "The Sound of Juggling" 2018: https://www.facebook.com/pg/soundofjuggling/photos/?ref=page_internal
we had a wonderful weekend with amazing guests and so many people that believed in our dream and helped to make it happen deserve our big thank you:
first to all of you that been here…. such a pleasure to make an event for smiley faces like yours…thank you for being 🙂
Orga Team:
Christian Kirnstedter and Eliran Hasson
Sandra Reiff​ & Stefanie Schneider​ for the best breakfast, drawings and and and and
Gerlinde Radler​ and Monika Jandl for our info point and and and
Martin Schneider ​- helpers,parkplatz uvm
Werner Moser – website, photos, video ………….
Jana Imriskova ​- all and more
Johannes Böhm – security and and and
Alan Chilli Kisiliuk​ – gala moderation and and and
Benjamin Büche & Hugo Ochsenarsch – gala show stage hands.
thanks to our amazing helpers:
Lisa​, Babsi, Lydia, Mira, Salome Weyrer, Sinja Norhausen, David Mayer, Raphaela Oberascher, Sara Mancino, Elias Egger, Nobert Feuerle, Cyrill, Jorik and Mario.
Circus Jam show artists:
Ursula Schwarz​& Ortwin Probst​ – Clownfabrik​, Verena Horsky ​& Sebastian Callejero ​- @Duo Wabohu , MisterM​ , Lisa Kuhn​, Christopher Biribauer​, MOTA – Motorik Tanz Artistik​, Anneliese Ebner​ & Anthelli oldies, Pamina Milewska​, Malin Brandl​, Kalais Wahn​, Cirque Haydotz​,
and big special thanks to Anna Sandreuter​ that worked really hard to build this show for us, congratulations for your new born baby 🙂
show helpers – Oliver Schlegel & Paul
Circustrainingscentrum Salzburg – Evelyn Daxner-Ehgartner​, Brunhilde Neumayer, Beme Neumayer, Wilfried Hertl.
GALA Show artists:
Alan, Mo, Benjamin (orga), Amit Kenig​, Florian Maertz​, Triolar​, Paly Odim​, Airene Xwtiki ​- Flare Performance, Maurizio Orlando, Gracie May Marshall​, Jonas Kerner​, Nico Sanchez​, Symetricks Fire & LED Show​
air acrobatic support – Markus Ka​
Licht & Ton – Thomas Garneyr – Eventgarnytour​
Zirkuszelt – Drums on Fire
Technik – Georg
Deco + Zelt Transport – Markus Anders​
Anthering Family:
Annemarie Auer​, Elternverein, Gemeinde Anthering​, Pfarre Anthering, SV-Anthering, Tennis Club, Volkschule, Kräutergarten, Stockschützenverein, Milchbauer, Eierbauer, Bäckerei Schmidhuber and alle freiwilligen Helfer von Anthering.
food and drinks : RisotTomas​ & Rocco Olbricht
Gastro Zelt – Thomas Johnlittle​ & Hanita Judt Cohen
Sponsoren: HERMES-Österreich, Marcus Halbig – Mister M, Frankenberger Hanfprodukte​, Sonett GmbH​, Woerle​
Logo: Arno Moosleitner​
Kinderfreunde Salzburg for helping us dealing with the hot weather
also thanks for Phoenix Fire Convention​ & nice-jonglierconvention​ for the inspiration
so many people helped us making it better then we dreamed on, we hope we didnt forgot nobody
we hope to see you all in 2022 again